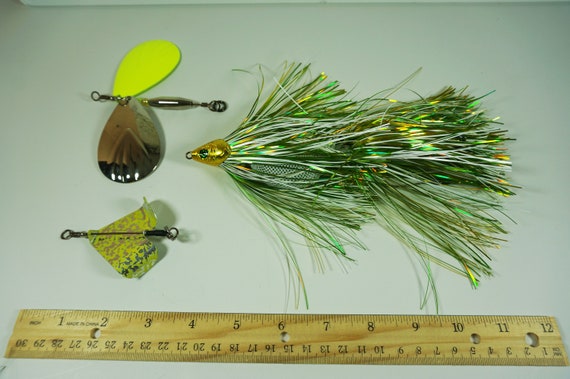 Convertible Baitcast Fly - Tinsel Skirts
24 available
Up your muskie game with the finest and newest type of lure available - The Convertible Baitcast Fly! This marvel from the tying bench is weighted for the baitcast rod and uses a wide array of soft materials for that streamer fly look common to the fly fishing world.
Our unique Choice Snagless Bucktail contruction is modified with additional elements for elite performance as a stand-alone baitcast fly. We have added buoyancy using foam float over a keel-weighted construction. This allows the bait to coast through the water, right-side up, then slowly sink on the pause. The foam is packed with two glass rattles for extra noise attraction. These elements of hardware are then protected with a tough mesh sheathing for great durability and background blend for the soft materials to be tied around. The 10" lure profile with these Tinsel Skirt Models uses 2 tinsel skirts on collars built onto this specialized wire skeleton.
Back to the weedless construction, you can honestly have the confidence to work these lures into ANY COVER! Hook guards shield each 5/0 VMC 4x Strong Treble until a fish bites down, allowing this lure to stealthily weave through obstacles unlike any other. The 2 Ounce Slow Sinking Model is ideal for working through submergent vegetation, log jams, bullrushes and timber bays. There is also a 1.5 Ounce Floating Model, terrific for any surface fishing including lily pads, silver dollars and bullrushes. For fishing in snag-free areas, the hook guards are stowable over the bend of the hook, if desired.
We do call it the Convertible Baitcast Fly for a reason - it is a multifunctional lure that EASILY CONVERTS TO A BUCKTAIL, BUZZBAIT AND MORE BY ATTACHING ADD-ONS!!! In stand-alone baitcast fly mode, there are no spinning blades for maximum weedlessness and a unique glide & flow presentation. Add-on blade sets with either a delta surface blade or subsurface bucktail blades with a body weight are simply attached using a split ring to the lure eyelet. Other weighted and bladeless add-ons are available to sink any floating fly, or work a slow sinking model deeper around weed edges or penetrate the thickest of cover.
When in stand-alone fly mode, it is important to use a balanced leader. This prevents the lure from pulling off to one side only. Where the lure hangs on the snap must be directly in-line with the leader, these balanced leaders use a coastlock snap. Another improvent to these leaders is shrink tubing to keep the snap from moving, which deters bucktail blades from catching around it on casting impacts.
Choose any blade Add-Ons you desire in the Fly Add-Ons Section of the shop. Bucktail blade sets are fully customizeable with single or double blades using blade sizes 8, 9 or 10 in a variety of colors. Also, you can mix and match these add-ons with multiple baits for more combinations.
Learn more about these weedless muskie lures with our video tutorial!
https://www.youtube.com/embed/BoNbEt4FlO8
These lures are new to the market for 2018 and were rigorously guide tested in 2017 with great results. Fish tend to bite on the pause when working a jerk and pause method and know that if you feel any resistance, it is likely a strike! The lures are soft to the bite and fish do not use the reflex to spit them out right away.
Be at the forefront of ingenuity with the finest and most versatile muskie lure on the market. With that said, please understand that these baits are not easy or quick to construct and require procurement of numerous materials that incur cost. However, the end result is a higher functioning lure that can change the way you approach fishing for these elusive predators. You will find that these are highly effective for every month of open water fishing season - in springtime shallows, summertime emergent weeds, working river banks, and enticing slow moving late-season fish.
Colors:
1. Black and Green
2. Copper Flash
3. Hot Firetiger
4. Walleye
5. White Yellow Green
6. Black and Silver
7. Black and Orange
8. Shimmer
9. Black and Red
10. Yellow Jacket
11. White and Orange
12. Black Luster
13. Tiger Perch
14. White and Silver
Choose either of two standard buoyancies, Slow Sinking or Floating.